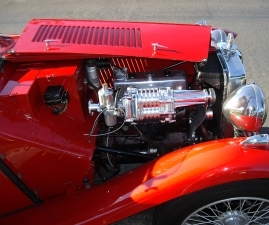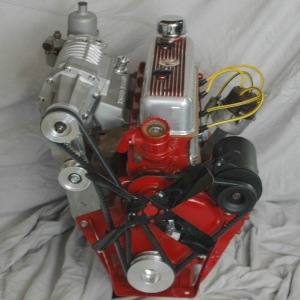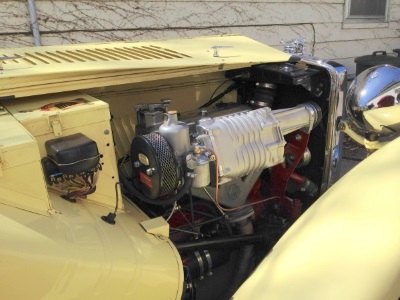 Click on any image to enlarge it.
At the present time we have no superchargers available, and a waiting-list of more than 20 people. We regret the inconvenience but we are taking no orders, as we cannot even promise a delivery date.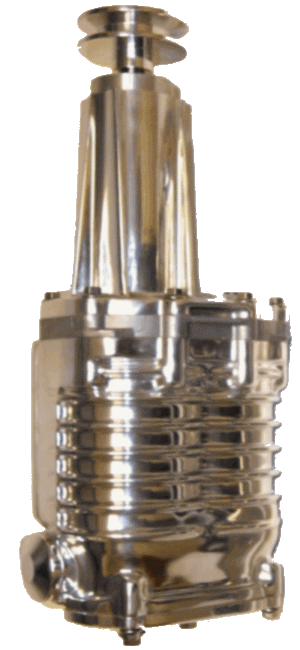 I also distribute maintenance-free and dead reliable Eaton-based supercharger kits to bolt right on to the XPAG/XPEG engines (more fiddling required on TF's, as usual). These custom blowers use the same internals that have proven their worth and reliability in Lotus and Mercedes cars, and my standard T-series kit provides an honest 45% increase in HP at the rear wheels. The supercharger easily can be installed in a weekend, and comes complete with a comprehensive illustrated manual. Comes complete with the proper 1-1/2" SU carb set up for your car, fully re-manufactured with new bushings and throttle shaft, butterfly, linkage, etc., to fit and run perfectly. This is a beautiful and modern supercharger that will completely change the driving experience of your MG, especially when combined with the 4.3 differential conversion, yet the car still handles, sounds and feels like the T-series MG it is. The blower needs absolutely no service or maintenance for 100,000 miles, looks very cool in place, and provides seamless power. More than fifty have been sold in the US and Europe, with complete satisfaction. Price is $4297 in natural aluminum, complete including shipping, or $4897 in fully polished form, complete including shipping. Please contact me about delivery time; assembling blowers is extremely labor-intensive, and polished blowers require longer lead times for show-quality presentation.

A very useful article on installing one of our superchargers appeared in TTT2, a great (and free, on-line) UK T-series MG magazine run by John James. It is an un-biassed description by an individual owner of installing and tuning the blower in a TD, and I highly recommend reading it.
It can be found at:http://ttypes.org/ttt2 in issue 7, pages 13-16.

His general comment is, "Wow!, the car is transformed." Horsepower increased at the rear wheels from 54 to 76, and the owner reported that, after a dyno tune, "... the car was a completely different machine, running ever so sweetly and with noticeably better accelleration and torque."

A satisfied customer recently wrote, "[My car] is running well and has put on 7,000 miles since the supercharger was installed. A Toyota T50 (Celica) 5 speed transmission has also been fitted recently together with an extractor exhaust system. Together with the 4.3 diff it is such a lovely car to drive and with the blower, torque is incredible with acceleration possible from as low as 1,500 revs in 5th gear."

Another satisfied customer wrote, "Brought the TD home yesterday, what a blast to drive! I went up a hill in 3rd gear that was almost impossible in 2nd before the blower. Now I have to really watch the tach as it hits 4k in a flash."

Finally, an Australian buyer wrote "I could not believe how smooth and fast the car was when I put my foot into it a little more. There was no pinging or any drama at all. It just went like never before."

A couple of noteworthy points: one of the great benefits of this blower is that installation does NOT need to be done by a mechanic, the instructions are clear and straight- forward, and the process is entirely reversable. If you can do a complete tune-up, you can easily install this blower in a weekend. Also, the engine and transmission do NOT need to be removed to install the blower (the author of the article needed to replace the Brass "Core" Plugs). You don't even need to pull the radiator to install this blower! Finally, we do not consider the second fuel pump reported in the article as necessary; the stock SU fuel pump will provide more than enough fuel for the 1-1/2" SU carb, even under extended road driving.

Read the article and you will see what a great product is this modern and dead-reliable supercharger.